7. Camelopardalis constellation
Chitra Kramela mandala. The constellation of the giraffe.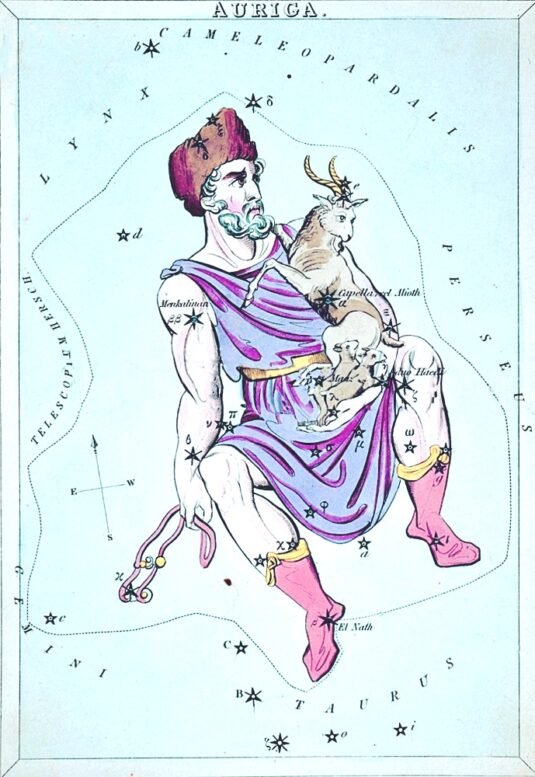 Brahma mandala – Charioteer. Hēniochus – rein holder. Mūmsik al ainna. Also known as Rathitama Pushan, the best of charioteers, Margidda, Rakhov, Mar-urbi(chariot), Heniochos(bridle-holder) and Waggoner.
Alpha – Capella, a little goat. Brahma-Hridaya, heart of Brahma. Also known as Askar(the goat), Aiz, Iqu(the gate star) and Aix. The goat star. 
Beta – Menkalinam, Menkib dzul innam – shoulder of rein holder. Also called Urah, the breast star. 
Delta – Prajapati
Kappa – Brahma-hrit
Epsilon – Maaz, he-goat
Zeta – Sadatoni, two young goats
Iota – Kabdhilinan, anklebone of rein-holder – Achilles heel
Other constellations in Auriga
Eta/Zeta – Haedi – the kids. Rama-vana, the arrow of Rama. Also known as Ara, the saw and the stellar arrow. 
Abhaiot/Alhajoth. Goat. Alatod, kids. Alanāt – the goats. Pushan is also called Ajasva, the one with goats for steeds. 
The celestial bow, connected to the rainbow or Indra-Dhanusha, or RamaDhanush is in this constellation, with Eta/Zeta, (Haedi) and Epilson, Auriga pointing to Iqu, the gate star at Capella(Alpha) make the Arrow head, and the bow itself one with Perseus or Parsuram taken away by Rama to eventually offer to Varuna(in Ursa Minor, the consort star of the Milky Way stream in the Galaxy)