A coat of quotes and passing poetry
"Artwork of Minerva from Indian Mughal emperor Akbar's court, 1590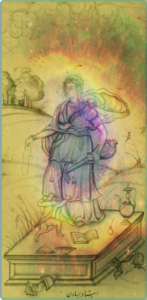 "Those very groups of gods enter into You ; struck with fear, some extol (You) with joined palms. 
Groups of great sages and perfected beings praise You with elaborate hymns, saying 'May it be!'
O you, who in some pretty boat, 
Eager to listen, have been following Behind my ship, that singing sails along
Turn back to look again upon your own shores; 
Tempt not the deep, lest unawares,
In losing me, you yourselves might be lost.
The sea I sail has never yet been passed;
Minerva breathes, and pilots me Apollo, And Muses nine point out to me the Bears.
You other few who have neck uplifted Betimes to the bread of angels upon Which one lives and does not grow sated, 
Well may you launch your vessel Upon the deep sea."
"
Minerva | Dante Alighieri