Vrisha Mandala – Guttana (the heavenly bull), Aleph, Alap-Samé, Taburi, Burj Al Tawr, of the bull. Made up of 44 stars. 
Alpha – Alderberan/Ad Dabaran – one who follows. Ain el Tawr – eye of the bull. – Rohit – Bir (the vermillion) – Oculus Tauri (eye of the bull) – Suravi – Haladdi-varna. 
Beta – Nath – Agni – Al-natih (the Butting) – Kabdhi-I-inan ( the heel of the rein holder)
Zeta – Svaha
Eta (25) – Alcyone (queen who wards off evil storms) – Devasena
Gamma – Primus Hyadum, first Hyad.
 Epsilon – Ain, (Second eye of bull)
27 (Tauri) – Atlas, he who dares and suffers, father of Plieadian set
17 (Tauri) – Electra – Amber, shining, bright
20 (Tauri) – Maia – grandmother, mother, nurse, great one
23 (Tau) – Merope – Eloquent, bee-eater, mortal
19 (Tau) – Taygeta – long-necked
28 (Tau) – Pleione – Sailing queen – Ocean creature, mother of Plieadian set
16 (Tau) – Celaeno – Swarthy
21/22 (Tau) – Asterope – Lightning, twinkling, sun-faced stubborn face
Other constellations inside of Taurus. 
A cluster – Hyades/ Huēin – to rain.
Suculae / Hues – Sow.
7 stars – Plieadies/Plein – To sail. Their many names are the following –
Alcyone, Merope, Celieno, Electra, Maia, Asterope, Taygeta. Also collectively known as 
Eth Thoreyya/Et Tawr.

 

Hesperides, Atlantides
Virgirlae – stars of spring.

 
–  Cleaver, hencoop, Kimah
Alcyone – The hen. (Deva-sena).
Krittika nakhatra – Matri mandala – Mula(the star) – Te (the foundation) – Mao (sun-open door) – Kimah (family) – Aritum (The cluster) – Virgilae (stars of the branches) – Pleiades (the numerous). 3rd Nakshatra. 
Deity – Agni. Matri mandala is a cluster of 400 stars, 6 to 8 of which are visible. 6 of these constitute Krittika, in the shape of a fire-flame. Krittikas became Yasoda, the nurturer (bestower of brilliancy), as the sun reached full brilliancy over a 1000 years and met the Krittikas on its northing, the gate of heaven opening so to speak, over 3000 years ago. 
Rohini nakshatra – Hyades (The rainy ones) – Pluviaé (pigs) – Rohit (The female deer) – Suravi (the celestial red cow). The 4th Indian nakshatra.
Deity Prajapati. 
Alpha, Epilson, Gamma, Delta, Theta of Taurus. 
El Thoreyya – Plieadies. The 3rd Arabic star mansion. 
El Derberan – One who follows/eye of the bull – Alderberan, Alpha Taurus. The 4th Arabic moon station.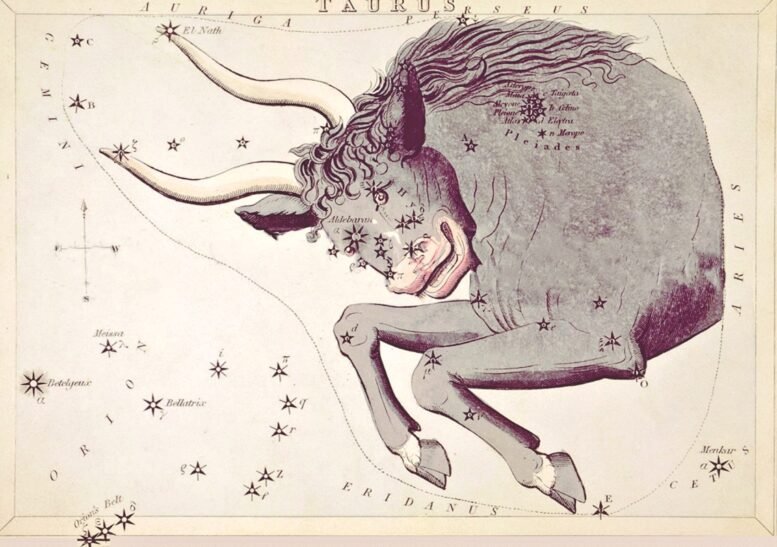 10. Horogolium constellation
Ghatikā mandala – the clock
Suvarnāsrama mandala – the swordfish.
R – Lopamudra – the vanishing one
12. Reticulum constellation