Cepheus constellation
Sephāli mandala – King – Hyk – Capuja.
Alpha – Alderamin.
Beta – Alfirk (flock).
Gamma – Er Rai (shephard).
Xi – Kurhah – blaze – horse's brow.
Mu – Garnet star.
Lacerta constellation
Godhā mandala – the lizard.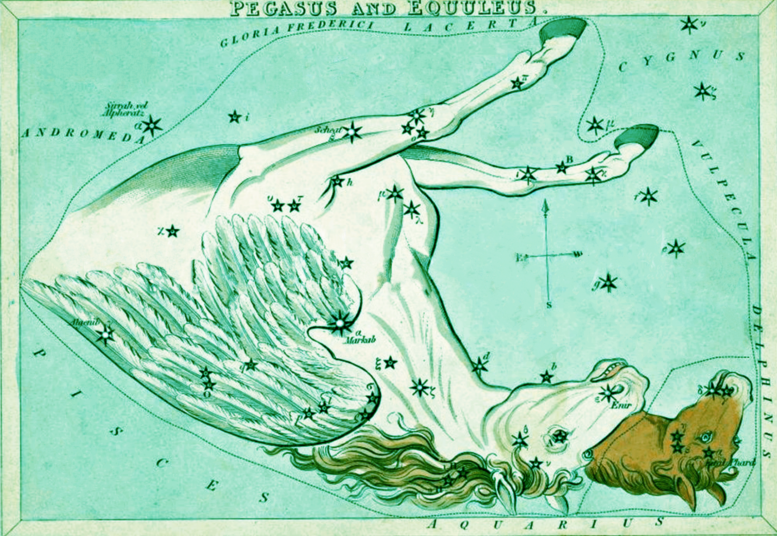 Pegasus constellation
Pakshirājasya mandala – Pegasi – Equus – Feras al Thani – second (winged) horse.
Alpha – Markab (saddle).
Beta – Scheat – Sak (front leg).
Gamma – Algenib (flank) – Al Jannah (wing).
Epsilon – Enif (nose) – Enir.
Zeta – Homam (high-minded) – Homān – Oman – hero.
Eta – Matar (rain).
Theta – Baham (livestock).
Mu – Sadalbari (lucky star of the excellent one).
Also, Azalfafge, the hoof of the horse is in Cygnus, and Alpheratz, the belly of the horse is in Andromeda.
Other constellations in Pegasus
Nakshatra Purva-Bhādrapada or Prausthapada. The 25th nakshatra, 2 stars that look like a bell. Beta and Theta Pegasi. Deity – Aja Ekapād.
Nakshatra Uttara-Bhādrapada. The 26th nakshatra, also 2 stars that look like a bell. The stars are Delta Pegasus and a common star of two constellations Sirrah (Alpha Andromeda). Deity Ahi-budhnaya.
El Farg El Mukdīm – The joy preceding. Alpha and Beta of Pegasus. The 26th Arabic moon station of the stars.
El Farg Mukhar – The joy succeeding. Gamma Pegasus and Alpha Andromeda. The 27th Arabic star mansion.
Equuleus constellation
Asvatara mandala – the little horse.
Alpha – Kitalpha, part of the horse.