Ace of Water: Going With The Flow
The figure in this card is completely relaxed and at ease in the water, letting it take him where it will. He has mastered the art of being passive and receptive without being dull or sleepy. He is just available to the currents of life, with never a thought of saying "I don't like that," or "I prefer to go the other way."
Every moment in life we have a choice whether to enter life's waters and float, or to try to swim upstream. When this card appears in a reading it is an indication that you are able to float now, trusting that life will support you in your relaxation and take you exactly where it wants you to go. Allow this feeling of trust and relaxation to grow more and more; everything is happening exactly as it should.
Osho's Teachings
When I say "become water" I mean become a flow; don't remain stagnant. Move, and move like water. Lao Tzu says: The way of the Tao is a watercourse way. It moves like water. What is the movement of water? or of a river?
The movement has a few beautiful things about it. One, it always moves towards the depth, it always searches for the lowest ground. It is non-ambitious; it never hankers to be the first, it wants to be the last. Remember, Jesus says: Those who are the last here will be the first in my kingdom of God.
He is talking about the watercourse way of Tao–not mentioning it, but talking about it. Be the last, be non-ambitious. Ambition means going uphill. Water goes down, it searches for the lowest ground, it wants to be a nonentity. It does not want to declare itself unique, exceptional, extraordinary. It has no ego idea.
Osho Take it Easy, Volume 1, Chapter 14
A coat of quotes and passing poetry
"
Now, on sea and land descending, 
Brings the night its peace profound: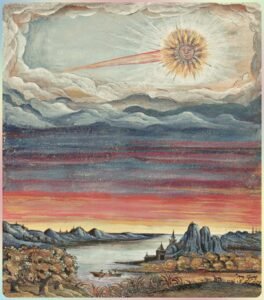 Let our vesper hymn be blending With the holy calm around. 
Soon as dies the sunset glory, Stars of heaven shine out above, 
Telling still the ancient story— Their Creator's changeless love. 
Now, our wants and burdens leaving To his care who cares for all, 
Cease we fearing, cease we grieving; At his touch our burdens fall. 
As the darkness deepens o'er us, Lo! eternal stars arise; 
Hope and Faith and Love rise glorious, Shining in the Spirit's skies. 
"
Vesper Hymn | Samuel Longfellow