4 – The Rebel
The 4th card of the Major Arcana, the emperor stands for complete fullness. 
In this archetype of the divine male, it expresses the idea of harmony with foundation and authority. And so it reflects the deeper vision of all matters regal. 
The deeper meaning in it represents being the emperor in your domain of celestial matters in the pursuit of the godhead. Externally however, it reflects the greatest solid sense of authority, kingly or otherwise in the larger structural construct of society. In that, the reflections of this are within the governments of the self, and its externalised acceptance. 
That said, it reflects the foundations that make up our world view of society, and so in that patriarchal conditioning also reflects the concept of the kingly emperor. 
Osho, in his cleverness calls the Emperor the rebel, for despite the solid foundations that form the past, the potential of change and the revolution within the self is always the greatest harmony. 
This card represents ambition, authority, leadership, and paternity that can be found within oneself. Herein within is the drive and determination to lead and to be in control. 
In an individual, this card often represents a person in power. It is all the characteristically masculine aspects of consciousness and solar illumination, which demand clarity. He as a sign is the source of conscious spiritual and moral principles that would then provide that vision to his own fundamental clarity. 
---
A coat of quotes and passing poetry
"Artwork of Minerva from Indian Mughal emperor Akbar's court, 1590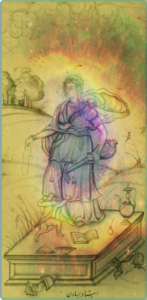 "Those very groups of gods enter into You ; struck with fear, some extol (You) with joined palms. 
Groups of great sages and perfected beings praise You with elaborate hymns, saying 'May it be!'
O you, who in some pretty boat, 
Eager to listen, have been following Behind my ship, that singing sails along
Turn back to look again upon your own shores; 
Tempt not the deep, lest unawares,
In losing me, you yourselves might be lost.
The sea I sail has never yet been passed;
Minerva breathes, and pilots me Apollo, And Muses nine point out to me the Bears.
You other few who have neck uplifted Betimes to the bread of angels upon Which one lives and does not grow sated, 
Well may you launch your vessel Upon the deep sea."
"
Minerva | Dante Alighieri