Knight of Earth / Rainbows - Slowing Down
The Knight of Rainbows is a reminder that, just like this tortoise, we carry our home with us wherever we go. There is no need to hurry, no need to seek shelter elsewhere. Even as we move into the depths of the emotional waters, we can remain self-contained and free from attachments.
It is a time when you are ready to let go of any expectations you have had about yourself or other people, and to take responsibility for any illusions you might have been carrying. There is no need to do anything but rest in the fullness of who you are right now. If desires and hopes and dreams are fading away, so much the better. Their disappearance is making space for a new quality of stillness and acceptance of what is, and you are able to welcome this development in a way you have never been able to before. Savor this quality of slowing down, of coming to rest and recognizing that you are already at home.
Osho's Teachings
Meditation is a kind of medicine – its use is only for the time being. Once you have learned the quality, then you need not do any particular meditation; then the meditation has to spread all over your life. Walking is Zen, sitting is Zen.
Then what will be the quality? Watchfully, alert, joyously, unmotivated, centered, loving, flowing, one walks. And the walking is sauntering. Loving, alert, watchful, one sits, unmotivated – not sitting for anything in particular, just enjoying how beautiful just sitting doing nothing is, how relaxing, how restful. After a long walk, you sit under a tree and the breeze comes and cools you. Each moment one has to be at ease with oneself – not trying to improve, not cultivating anything, not practicing anything.
Walking is Zen, sitting is Zen. Talking or silent, moving, unmoving, the essence is at ease. The essence is at ease: that is the key word. The essence is at ease: that is the key statement. Do whatsoever you are doing, but at the deepest core remain at ease, cool, calm, centered.
Osho The Sun Rises in the Evening Chapter 7
A coat of quotes and passing poetry
"
"O! hast thou seen a vernal Morning bright.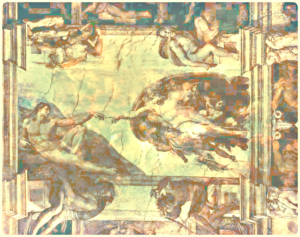 Gem every bank and trembling leaf with dews,
Tinging the green fields with her amber hues,
Changing the leaden streams to lines of light?
Then seen dull Clouds, that shed untimely night,
Roll envious on, and every ray suffuse,
Till the chill'd Scenes their early beauty lose,
And faint, and colourless, no more invite.
The glistening gaze of Joy?—'Twas emblem just,
Of my youth's sun, on which deep shadows fell,
Spread from the PALL OF FRIENDS; and Grief's loud gust,
Resistless, oft wou'd wasted tears compel:
Yet let me hope, that on my darken'd days,
Science, and pious Trust, may shed pervading rays." - Horace.
"
Vernal morning | The poetry of Horace